Getting found in Etsy searches can be a frustrating experience for many sellers. If you have great items but just aren't getting views from Etsy, then it might be time to take a look at your tags and titles.
The default search method on Etsy is a relevancy search, meaning that Etsy looks at a variety of factors to determine how to rank items. While no one knows the exact algorithm that the powers that be at Etsy use to determine relevancy, they have given us some hints. We know that titles and tags are the two factors that are definitely at play that we, as sellers, have direct control over. Recency is another element of relevancy and there is evidence that views and hearts are factored in as well. Item attributes are not currently taken into account, but Etsy says they will be soon, so you might want to go ahead and start filling those out for new items.
First of all, let's take a look at how to improve titles for relevancy searches. Etsy weights words in your title according to their place in the title. Thus, the words at the beginning of the title are more important for searches than those at the end. So it's a good idea to get the most important words as close to the beginning as possible while still making sense. A good exercise is to try to think of three words that your potential customers might type into search if they were looking for your item. Let's take a look at these earrings from my shop.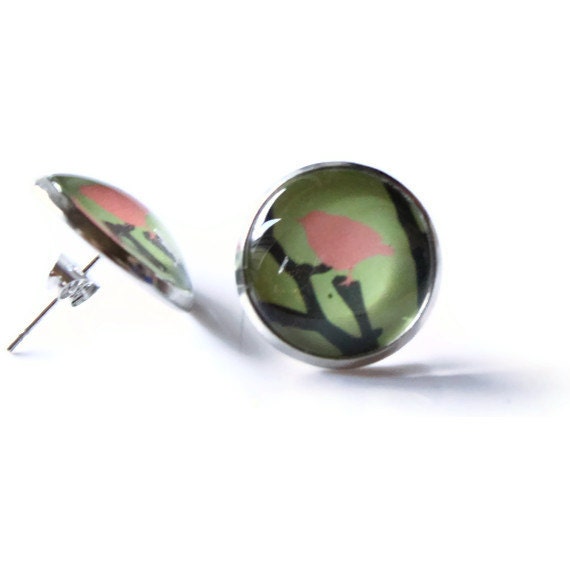 The main attributes of these earrings are that they're stud or post earrings, they have birds on them, and they're green and pink. I think that people looking for earrings with a design like this would be more interested in the fact that they have birds on them than the colors. I also think the style of earring backing is important, so I started the title with Bird Stud Earrings. How did I decide between using stud or post? I went to the Seller Opportunity Tools prototype and went to compare idea to see which would be better. The tool has some definite limitations, but it's great for figuring out which broad term to use. I still wanted to include post earring in the title as well as the colors, so the next bit reads Green Post Earrings. Since it's springtime (or almost) and these really fit nicely into the spring theme, I decided to make the last part Pink Spring Jewelry.
Now let's look at the tags for the same pair of earrings. Since I brainstormed about the important attributes for the title, I had a good idea for some tags. Tags work best when they're short phrases that are exact matches for what someone is searching. For instance, if someone searches for pink bird earrings then a listing with that exact phrase is going to appear ahead of one with each word as a separate tag (of course, there are other factors in relevancy, but let's assume all other things are equal here). Of course, you can't know exactly what every potential customer is going to search for, but you can make some educated guesses about likely searches. Don't forget that your categories are already tags, so you don't need to repeat them by themselves. However, repeating them in phrases can be very useful. My earrings are categorized as jewelry, earrings, post. First of all, repeat the first few words of you title as a tag or at least as much as can fit if the words are long. So Bird Stud Earrings are one tag for me. Then I went with bird earrings, stud earrings, post earrings, green post earrings, pink earrings, and pink bird earrings.
Seasonal or holiday related tags are very useful, so keep in mind what holidays are coming up as well. I added spring earrings and mothers day earrings to my list. Since earrings are also jewelry, I replaced earrings with jewelry for a few tags - spring jewelry and bird jewelry. I decided to use one tag to call them accessories, so I used spring accessories. I had one tag left, so I used it for my shop name, Haus of Ariella. You don't need to do that for every item, but it's good to have at least one or two items that are tagged with your shop just in case someone doesn't realize that there's a separate search for shops.
Always use all 13 tags! Every tag is an opportunity for people to find your item, so take advantage of that. If you get stuck or can't decide which tag is better, the
Seller Opportunity Tools prototype
can be useful for coming up with ideas for tags as well, especially the find inspiration tool. Using team names can be helpful for difficult listings as well, but please only use team tags of teams that you are actually a member of.
Tags and titles are not an exact science, so experiment! Vary them for each listing, even if the items are almost identical. And don't forget to check your shop stats to see what search terms people are using to find you. It's also a good idea to keep your shop fresh and relevant by changing tags and sometimes titles to fit current or upcoming seasons and holidays.
One very useful tool I've found for quickly editing titles and tags is
Betsi
. Betsi Lite is free, but it doesn't let you edit tags. However, I've been so happy with the paid version that I think it's worth every penny (currently about $72AUD for the entire year). If you want to give it a test drive, you can get the trial version for 7 days or 20 actions, whichever comes first. It also lets you bulk edit far more than titles and tags, so it's also really useful for updating descriptions, processing times, sections, etc.