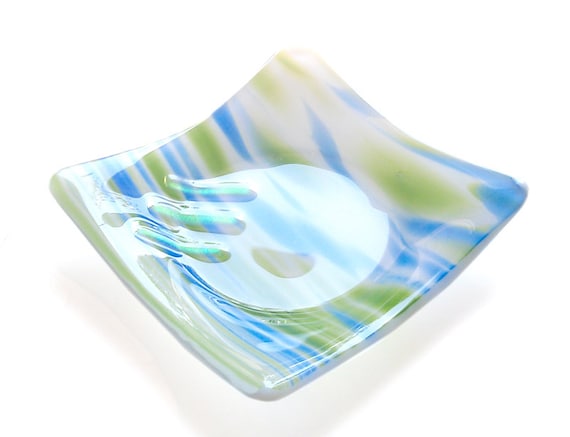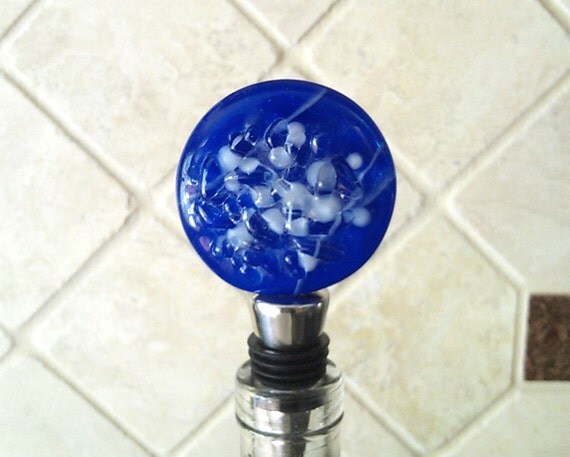 We are a mother and daughter team who, several years ago, took a series of classes in both glass fusing and PMC (precious metal clay) at a local glass studio. We found it to be an outlet that perfectly suited our personalities and so we invested in the equipment, tools and glass stock necessary to form a small home studio. We enjoy the days-long process, the challenges, and the outcomes involved in creating treasures with glass and precious metals. We love the sparkle and glitter and the amazing relationship it has with light.
Inspiration strikes at the most interesting times, we can see a painting, a color combination, a flower or just about anything and ideas are sparked. We often draw out the design / concept so we don't forget, which is why we have lots of napkins and odd pieces of note paper in our workspace!
It often starts with a particular idea, but sometimes we stare at the glass and what we intended to do becomes something else entirely. That's what we love about the creative process and inspiration; it guides us where we are supposed to go.
Projects are always fluid, and there are always several in progress at different stages, at any given time. There are many stages, and stops and starts, because glass fusing is not something you can do in one sitting.
• There's the time spent cleaning the glass - and keeping it clean - until we place it into the kiln.
• Glass scraps that have to be sorted by color and size, to be incorporated into future projects.
• There are always sheets and pieces of glass laid out on a table where we can "percolate" for a while about what we want to do with them.
• There will be some on the cutting table waiting to be "sliced and diced" or cut in a circle.
• After cutting, there must be some nipping and shaping to be done.
• And at the far end of the cutting table, there will be a line of beauties waiting for their turn in the kiln. Some of them will be slumped into or over a mold.
• After coming out of the kiln some are not quite smooth and are then lined up waiting to be cold worked (hand filed or smoothed out on the grinder).
• There are pieces that are lined up to be fire polished for a second or third time, with additional elements added at each firing.
• And then there is the time we spend cleaning the kiln shelf and reapplying kiln wash (while wearing my respirator). And cleaning and reapplying kiln wash to the molds. And remixing the wash when we've run out.
• All crafters have to spend administrative time on things like placing orders, tracking expenses and so on, so we won't go into all that.
• There are some technical aspects of glass that we have to factor into our projects – coefficient of expansion, annealing, and calculating firing schedules.
So if you have ever wondered what we mean by "days-long process" perhaps all this helps to clarify! Working with glass can be dirty, messy, wet, and sometimes a bit bloody – but we love it.
Our styles are quite different, which helps brings a wide variety to our shop. We critique each other's work and push each other to grow and evolve our design work. We strive to stay original and avoid replication so that our customers can be assured that theirs is a completely unique piece.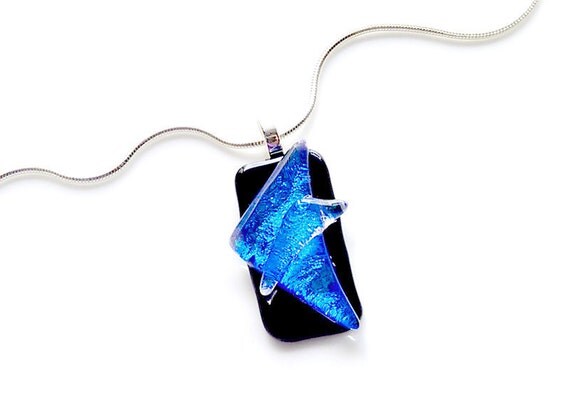 While jewelry is a large portion of our work, we also make a growing assortment of decorative and functional items that make lovely design accents for the home, all of which are hand cut, shaped, kiln-fired and cold worked in our little studio. Right here in the U.S.A.
As a SPECIAL OFFER FOR 3 days only! Expires September 21st
COUPON CODE: PFTB15OFF Enjoy 15% off of your order with her shop.
Etsy:
www.etsy.com/shop/GlitterbirdGlass/
Twitter:
twitter.com/GlitterbirdGlam
Blog:
glitterbirdglamour.blogspot.com/
Flickr:
www.flickr.com/photos/glitterbirdglamour/
Pinterest:
pinterest.com/spraydm/
Facebook:
www.facebook.com/glitterglass
Google+:
plus.google.com/u/0/103184449632714823503/about